DELIVERY CHARGES & SERVICE
Due to an unprecedented increase in shipping and shipping supply costs, local ground service delivery charges are now $19.95 per order.
$19.95 TO THE FOLLOWING AREAS: ALL OF NY, NJ, CT, MA, RI, PA, DE, MD, AND WASHINGTON DC
ZONE-BASED SHIPPING: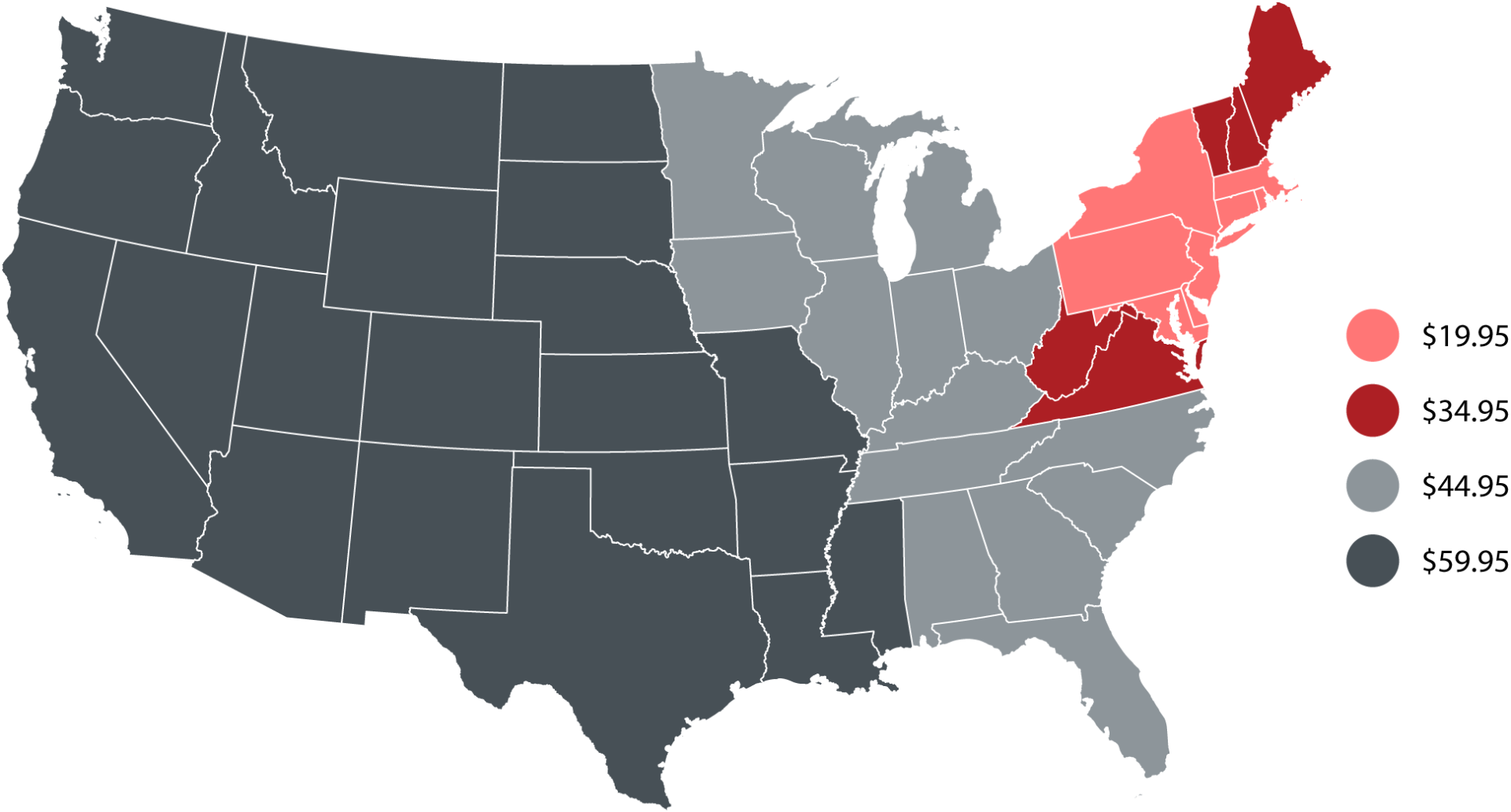 It takes 24 hours to receive and process your order. Orders placed by 11:59 p.m. EST Sunday – Wednesday have the option to ship out the next day for the earliest possible overnight delivery (on the drop-down calendar at check out, the earliest delivery date shows in red.) Otherwise, you may choose another delivery date using the same drop-down calendar.
Due to the perishable nature of our product, we ship all orders to arrive overnight. Orders shipping within approximately 100 miles of New York City are guaranteed overnight via FedEx Ground. Orders shipping outside this area ship overnight via FedEx Standard Overnight. Orders may be delivered as late as 8pm on the date of scheduled delivery. All orders must be shipped, we are not able to accommodate any pick-ups at our premises.
Please note: Not all addresses are deliverable via FedEx Standard Overnight, and those destinations will incur an additional charge for Priority Overnight delivery.
If you would like Saturday delivery and provided the delivery address is serviced by FedEx on Saturdays, additional charges will apply
(add $30 for Standard Overnight, or Full FedEx Metered Rate for Express).
During December and other peak periods, we may require additional days to process and deliver your order and will inform you of any unusual delays. Due to winter weather, and other events that are out of DeBragga's control, deliveries may be delayed, and on-time delivery is out of DeBragga's control. Outside of weather interference, we do everything we can to ensure on-time delivery.
We ship all packages with "Signature Release," which means that no signature is required for delivery. We cannot ship to PO Boxes.
DeBragga is partnered with PeriShip, a service exclusive to FedEx that specializes in the management of perishable shipments. Once your order leaves DeBragga, PeriShip will manage your shipment and keep you informed of any changes or issues. For questions related to transit, or any special instructions that you may want to discuss after the shipment has left DeBragga, please contact PeriShip directly at 866-928-6428.
Important information
DeBragga will not assume responsibility for any incorrect addresses provided to us; delivery, return and re-delivery charges will apply. We strongly recommend that when ordering perishable items, you confirm that the recipient or other responsible party will be available to receive, open, and properly store your order. We are unable to replace products that perish due to the recipient's being unavailable at the time of delivery. Furthermore, please note that our boxes are clearly marked perishable on the outside and we are not responsible for the items received but not opened.
We make every effort to ship most orders within 24 hours. Inclement weather and other unforeseen circumstances can cause shipments to arrive later than expected. We specifically encourage you to order prior to the week of THANKSGIVING AND CHRISTMAS to avoid unexpected delays and stock-outs.